Thanks To Our Customer Family!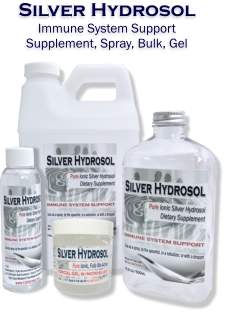 Dear Friends,
It's been long overdue that we put together our first Silver Hydrosol Update! Quite frankly, our company has been growing rapidly, giving us all plenty to do to keep up! :-)
We are committed to making products that work for prices that are affordable. Good health isn't an option yet most of us can't afford to pay top dollar for multitudes of potent tools like Colloidal Silver Hydrosol.
In fact, this company was born out of our own rejection of high prices of this kind of product. We knew this product worked, but refused to pay $30 for an 8 ounce bottle month after month.
The end result is our best value. We've dropped that $30 per 8 ounces to $4.21 when you buy our Buy 3, Get 1 Free Half Gallon deal!
What that means is that more family members can supplement and/or the freedom to use our products for many more uses that just supplementation! Everyone wins!
We've just added a new product to our website, the BreatheEasy Lung Exerciser! It works! It's simple, affordable and effective. It opens up lung capacity and strengthens abs anytime and anyplace. We've included a Buy 3, Get 1 Free offer here as well!
We would love to hear your suggestions, stories, feedback, testimonials, etc... Most of the website pages have a place to send us those comments or you can email us at CSHstore@mail.com (mail, not gmail).
Thanks again for being part of our customer family!
Ron Souther, Nature's Gifts