Welcome To Our Silver Hydrosol Store!

FREE DOMESTIC SHIPPING (over $10 order)!


(We ship internationally but custom quote the shipping after each order is made.)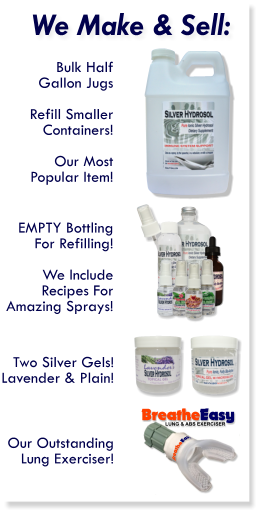 Silver hydrosol is nature's antibiotic as it has anti-bacterial, anti-fungal, and anti-viral properties!  For thousands of years of recorded history, silver has been used as an antibiotic (and food preservative) long before the pharmaceutical industry created manmade ones (and we all know how that is working out as pathogens are becoming increasingly resistant to them). 
Colloidal Silver Hydrosol is also thought to help rebalance energy in the body, perhaps allowing our biology to heal itself better and easier.  Silver is known to have unparalleled conductivity, which is why it is used in electronics and elsewhere.  It simply has no equal.  Even water has been proven to be affected by its environment.
More and more health-conscious consumers are rediscovering the power of silver in the form of Silver Hydrosol as a safe, non-toxic, alternative much like shifting to organic foods from processed ones.
Our mission is to provide Silver Hydrosol products at affordable prices to make this gift of nature accessible to everyone!  We do not skimp on quality, instead we keep our overhead to the bare bones while selling directly to you, our Customer Friend.  Enjoy our sub-wholesale prices!
Please be sure to browse any customer feedback reviews on our Testimonials page.  And if you have any stories you would like to share, please do so!  We would love to hear from you whether you're a customer or not.  In fact, look for our ongoing offer to refund you $5 when you submit your personal experiences with colloidal silver or our other products, for the benefit of those seeking ideas and answers in their online searches.  Together, as a community, we can make a difference!
Our company and products are part of an overall effort to make more and more people aware that within Nature are so many of the remedies and nutrition we need to live with health and happiness!  These products sell themselves...excellent quality at excellent prices!
You will see all across our product pages our desire to deeply discount our products for volume purchases.  Most of our products have a Buy 3 Get 1 Free offer.  Our commitment is to make products that improve lives for a prices that are sustainable!
Enjoy your visit!  Please be sure to contact us with any questions! 
Enjoy your visit!  Let us know what you think!

Please feel free to contact us using the Contact page for any inquiries!  Again, we are passionate about colloidal silver hydrosol and health in general!

Have Something To Share?
Do you have a great story about this? Please share it!
What Other Visitors Have Said
Click below to see contributions from other visitors to this page...