I sincerely appreciate your purchase of our BreatheEasy Lung & Abs Exerciser (ASIN B00WQAEMGK / UPC 881314841110)!  All of my products exist because they helped me first.  The BreatheEasy is no exception! 
I share that story in my two testimonials in this eBook, which also contains tips for using and cleaning, an introduction to breathing health and wellness, plus a myriad of my favorite expert voices on YouTube in case you're looking for more depth into the latest understanding and research.  
PLEASE feel free to DUPLICATE this eBook as much as you would like and share with anyone that you think would benefit.  It's primarily for education which is the beginning of the body being able to heal itself.  I only require that it's shared in its entirety, that no changes are made and proper credit is given to me.  Other than that, you're welcome to share it as you wish!  Thanks!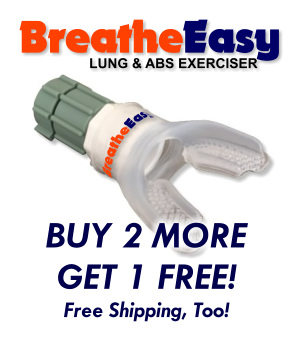 Our ongoing special is "Buy 3 Get 1 FREE", but since you already bought one, we'd like to give you a chance to benefit from this special. 
Simply order the bundle here AND email us (CSHstore@mail.com) your Amazon, Ebay, or Etsy order number so that we can verify your previous purchase, and we will be happy to send you three more!  This saves you 25%!
And in the future, you can always find our "Buy 3 Get 1 FREE" special on this product and many others that we make!  
Our passion is to make "wellness" affordable!  
We've created this bundle as a way to welcome new Customer Friends into our family of like-minded, health-conscious people!  We hope you will take advantage of this offer, whether you're familiar with Ionic Silver as a Dietary Supplement or not.  
If you're not familiar but want to learn more, please see the educational links in the menubar to the left and also visit our Testimonials page to see what our customers say!  
Even if you're not interested in this product, maybe there is someone you know that would like to get this offer?  That person is welcome to benefit from this deal on your behalf!
Besides using as a supplement for Immune System Support, we also show you how to make, e.g., an invigorating Lavender Essential Oil spray where drops of lavender are infused into the ionic silver water.  So many uses! 
You can use it for aromatherapy, which complements using the BreatheEasy for relaxation and meditation.  
Or you can use the Lavender Silver Spray as a wonderful hand sanitizer where you simply spray your hands, then "wash" them until the liquid evaporates.  The end result is a super clean feeling, soft skin, and again, a sense of calm from the aromatherapy! 
You can also freshen your clothes and skin, or spray on pillows and sheets when getting ready for bed!  If will also repel fleas on your pets and eliminate the dog smell.  AND keep a sprayer of it in your bathroom!
You can also infuse Peppermint, Spearmint, Cinnamon, or any flavor you like as well for a refreshing way to freshen your mouth and breath, while enjoying the therapeutic benefits of the essential oil. 
All our labels have these instructions and our sprayers are "fine" mist which are perfect for this kind of use!
Like all our products, Ionic Colloidal Silver was transformational in my life, and led to the creation of this company!  Here is my YouTube video testimonial below from 2016 that relates my experience that I had in 2014...enjoy! 
(Note:  This detox that happened to me is NOT guaranteed to happen to you nor am I encouraging you to try to replicate my experience.  Each person's situation is different.  But my experience showed me that ionic silver helped me in my quest for wellness.)